1. Introduction – the significant risks of not investing in disruption
It is hard to imagine a world that does not have a mobile phone, or where the internet doesn't exist. And yet it is only 8 years since the first iPhone, while Google has only been listed for ten years. A micro-processor from 2014 is more than 3 million times as powerful as the first Intel chip from 1971.The growth of new technologies has been exponential rather than linear. This is best described as follows: take 30 linear steps, travel 30 metres. Take 30 steps exponentially, travel more than a billion metres.  Those billion metres, travelled exponentially, are analogous to the leap which took place during the industrial revolution. In a business sense, there is no going back from here.There are a number of powerful reasons investors should pay close attention to the disruptors  – aside from the fact that it is possible to make staggering sums of money in their shares. In the first instance, before any decision to invest in them, their presence is felt acutely in the underperformance of the companies previously not considered vulnerable to attack. Not the disruptors, but the disrupted.

For example how, it could have been asked a few years ago how it could be that an on-line retailer, offering only a picture of product, could win against the physical experience of buying the actual product in a bricks and mortar store and taking it home ?

It turns out that there are so many ways that the on-line experience can be superior (price, convenience, stock availability) that it works. Thus the on-line world had a very significant role to play in the physical world, with the share prices of those disrupted companies underperforming as the upstarts gained strength. Ask David Jones. Or Myer.

The rivers of gold in newspaper classified advertising haven't dried up – they were redirected to pass the new, faster growing towns of Craigslist and Google. Fairfax was already in trouble ten years ago, when Seek was still a village by the stream.

Telstra has been forced to change its core business model, and most of its assets, as a result of disruption, and the company's share price suffered for years as a result of this. Investors, and users, may have had the view that the telephone isn't going away, making Telstra a great investment, but that description was plainly wrong.The phone, and the phone line, have become so much more – the old business model just seems to be an anachronism and the possibilities of the phone have been realised so much more fully through Apple and Samsung.

Tesla, as we have noted in the press previously, is valued at just on half of General Motors.

Now is a good time to consider whether bank stockprices, which are spectacular, could one day be under threat from the peer-to-peer lending businesses like Society One, or in the US, Lending Club?

Investors may consider it risky to invest in disruption. It is significantly more risky to invest in companies that are attempting to build moats around themselves to keep the disruptors at bay. And as for investing in the disruptors, it has clearly turned out that many (though, importantly, not all) of their business models were absolutely right.

At this point, there is another issue. Self-managed super is there to provide in retirement. All SMSF's by definition have a long tail liability (it's us). And every student of finance knows that those liabilities must be matched off with long tail assets. Because the liability will be there (if we are) irrespective of whether the asset performs. Which is a fancy finance way of saying invest wisely – your retirement depends upon it.

Are Australians investing wisely? SMSF's hold 30.3% of their total assets in Australian listed shares, according to tax office data released for the 2013 year. This amounted to A$150b. There was virtually the same amount in cash. In overseas shares, there was A$1.9b, or just 0.39% of the total SMSF pool. Anecdotally, most SMSF's have lots of banks, and Telstra and Woolworths. It goes without saying that the official data clearly show that the vast bulk of self-managed super funds are virtually un-invested in the companies which are remaking global businesses before our very eyes.

From a risk perspective, this is extremely unwise.

What to do about this? Diversify. But the way to diversify is NOT to buy technology, which is a single sector bet.

The key to diversification is buying great businesses, across different sectors. That these businesses utilise technology is interesting, but not the point. Technology, by itself, may help productivity but way more important, it's the disruptive business model which has created the wealth. Disruption uses technology, because it makes for a better business. But truly disruptive businesses have no use for useless technology.

Apple isn't successful because it is a technology play – it's because there is no better consumer products company in the world. Google has effectively eaten the capitalisation of most of the newspaper companies in the world because of its command of advertising. Buying Illumina is sensible because the $1000 genome map for patients is just around the corner.

Own Amazon because it is a retailer with a very big spin-off business in cloud computing, but not because it is a technology play. Own Alibaba because China is a growth beast, and the company is simply a better way to transact for the millions of buyers and sellers who are infrastructure poor.  Another retailer in a fast-growing market.

There is one more reason, a hidden one. A significant chunk of the long tail of our liabilities is denominated in currencies outside the Australian dollar. Australians buy cars and holidays from offshore, quite a lot of clothes, food and yes, technology. So when the A$ falls, the affordability of these items falls. Just as diversifying out of Australian stocks may be sensible, it almost makes sense as a currency diversification, to guard against cost of living pressures which built up when the Australian dollar is low.
2. How Can You Profit From This?
Loftus Peak is a recently established portfolio management firm the shareholders of which have built an impressive investment record over thirty years in investment. The core thematic of Loftus Peak is the creation of a portfolio of listed global stock companies that are winning the disruption game.
Over the past forty years, disruptive companies have created hundreds of billions of dollars of value, at the same time cutting trillions from the value of the companies which were thought to be titans in their field.
We believe that Australian investors need exposure to the big changes that are taking place globally, and cannot achieve this in the Australian sharemarket. Loftus Peak is an active fund manager with arguably the best global change and disruption investment team in Australasia.
The path to significant excess returns can be found by constructing diversified portfolios in which companies are correctly valued and where risk adjusted rates of return are taken into consideration. We aim to achieve this by investing in companies with good prospects that are seen as undervalued.
Loftus Peak's people invest their own money in portfolios managed by the firm and thus have a keen interest in the performance of the Funds. Loftus Peak is a new company and does not have a significant track record. However, four of the five principals in Loftus Peak worked at TechInvest, a company founded by Paul Davis and Ashley Young, with Anshu Sharma also an employee. That company's 11 year performance is shown below.
3. Our philosophy
We at Loftus Peak believe that the opportunity for success in investing is maximised if we bring together a talented team that behaves honestly and ethically using a disciplined and transparent investment approach.
At the core, the team applies sophisticated investment tools together with their knowledge and experience to identify companies with good prospects to build portfolios that generate excess returns.
As a global investment manager located in Australia, we operate outside the "group think" of major investment markets. This allows us to foster a particular style, identifying and fundamentally evaluating investment opportunities without the adverse impact of market and industry "noise".
We believe that we have a repeatable investment process that applies through the full investment cycle and that is truly competitive with the offerings of other managers globally. Four of the five members of the team worked at TechInvest, where they generated outperformance of 11.4%pa compound return for the eleven years until 2010 (see chart above).
4. Investment Strategy
Loftus Peak's investment focus is simple – we seek to create portfolios of equity investments in undervalued companies with high growth potential and attractive commercial positions. These companies should have sustainable competitive advantages in their respective markets.
Our process is transparent and auditable. It involves a combination of sound financial theory and practical experience in valuing companies. The investment team combines top-down analysis with fundamental bottom-up qualitative and quantitative research to derive a risk-adjusted discounted cash flow (DCF) valuation of companies in the target universe. We believe that this method offers the most systematic, consistent, unbiased and comparable way to value diverse firms against one another over time. The DCF valuation is grounded in solid financial theory, which states that the value of a firm is equal to the present value of its future free cash flows, adjusted for risk. While we do not rely on relative, single period valuation measures such as P/E or EV/EBITDA ratios, we always take these into account, since no single valuation technique tells the whole story.
We will generally buy stocks from the pool of securities that are trading below our valuation, and sell them when they are trading above our valuation.
The approach allows for both fundamental accounting information as well as market-oriented inputs to be factored into the portfolio construction process.
Our model typically does not rely on leverage to deliver investment returns and specifically takes into account risk in the valuation process.
5. Investment Process
The three stages of our investment process that apply to building portfolios of investments are outlined below and summarised diagrammatically below.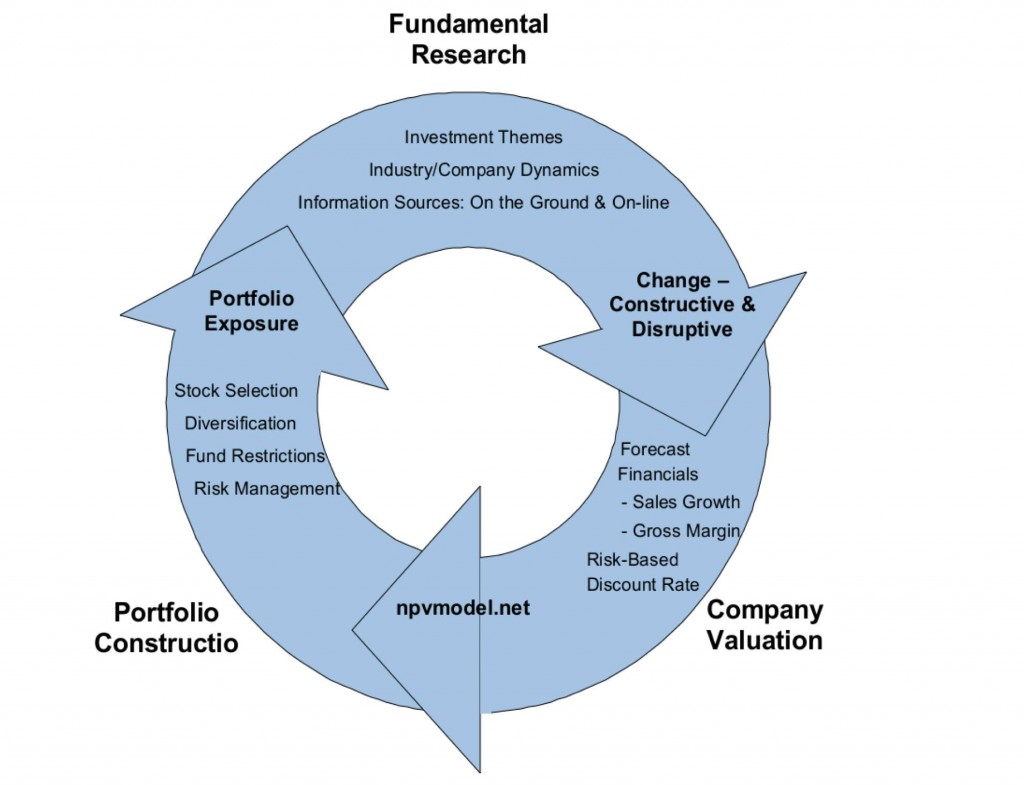 Fundamental Research
Fundamental research involves identifying and evaluating trends and themes and the likely implications at both the industry and company level. This is achieved both on-line and on the ground by involvement at trade exhibitions and conferences around the globe, developing relationships with industry participants and from extensive research of industry material. This stage of the process results in the delivery of a set of investable themes and the associated fundamental risks for companies that are impacted by these themes.
Company Valuation
During this stage our discounted free cash-flow (DCF) valuation model is run over the filtered universe of companies using forecasts of key financial aggregates and discount rates linked to industry and company fundamentals. This generates a list of companies ranked by their DCF valuation relative to current market prices. The investment management team then subjects the most undervalued companies to further review and analysis to identify companies as candidates for the target portfolio.
Portfolio Construction
After a careful assessment of current market conditions, the target portfolio is constructed having regard to diversification across risk factors such as industry, fundamental risk, market capitalisation, business maturity and geography.
Stock weightings typically range from 1% to 5% depending on the risk weight attached. Generally, the maximum weight for any one company in a portfolio is 10%. In simple terms, we may select around 16 companies with an average weight of 5%, and a further 10 companies with 2% each.
Benchmark index weights to particular companies are not taken into account in the portfolio construction process.
6. Risk Management Process
Risk management is an important and integrated element of Loftus Peak's investment and portfolio construction processes.
Risk is addressed in the investment process itself at the company level, by the application of higher discount rates to future cash flows of companies judged to be fundamentally higher risk and lower discount rates for companies judged to be fundamentally lower risk.
It is the application of these risk rankings that allows Loftus Peak to effectively use the DCF methodology to consistently value and compare companies through time.
Portfolio Risk Management
We seek to manage risk in two other ways. First, directly by way of achieving adequate portfolio diversification, which is ensured through the following portfolio construction controls:
Diversifying across a wide range of industries;
Diversifying across geographic markets;
Diversifying across companies at various stages of development;
Diversifying across companies with different market capitalisation;
Second, Loftus Peak has analysts devoted to the ongoing identification and monitoring of risk as well as the development, implementation and management of risk management tools. Final responsibility for executing risk management lies with the CEO, Alex Pollak.
To review on-going portfolio risk, Loftus Peak's analysts produce a regular risk report indicating possible rebalancing opportunities.